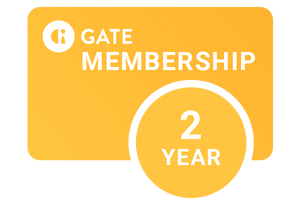 Only Gate offers all the sophisticated features you want in a single device that's guaranteed to simplify your life.
Free shipping and returns
30-day, money-back guarantee
1-year limited warranty
Free Standard plan included
All the Features You Need
Easy Installation & Setup
Installs in minutes
No drilling/wiring
Everything included
Easy App Setup
Removable battery
See a customer's unboxing and 6-minute setup
Thousands of Happy Customers and Counting
Have questions? We have answers!
Is a paid service plan required?
Gate comes with a free Standard plan out of the box, including real-time video, unlimited guest PIN codes and four administrator accounts. For additional features, such as scheduled access or the Emergency Dispatch Service, you'll need a paid service plan.
Do I have to pay for video storage?
To store and view your Gate video history, you'll need a Premier or Premier Plus service plan. Learn more about your service options here.
Can I access the Gate App on more than one phone?
Yes—you can add up to four Admins under the free Standard plan. They'll be able to see all the Gate activity and make changes from their own smartphone app.
Can I unlock the door remotely using the Gate App?
You can! The Gate Smart Lock app notifies you when someone is at your door so you can lock or unlock it remotely.
How long does the battery last?
Gate's detachable battery pod lasts one-to-three months between charges. You can also adjust motion sensitivity to extend your battery life.